5.25" MAGNETO OPTICAL DRIVES (MO Drives)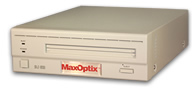 MO Drives have been out of production for several years, however refurbished still remain in circulation and that is where Maxoptix can help you! Sony was the last manufacturer of these 5.25" drives and ceased productions in 2009. Since then, we have been able to source used drives from Maxoptix, Sony and HP and other popular brands. Our technicians fully clean, test and refurbish these drives, and all come with at least a 90-day warranty.
If you have a non-working drive and we cannot find a replacement for it, send it in and let our technicians fix it for you. We offer a free evaluation on all MO drive repairs.
FACTORY REFURBISHED MAXOPTIX MAGNETO OPTICAL DRIVES
T6-Star and T6-5200 Maxoptix MO Drives. Rest assured you are getting the most reliable Maxoptix legacy drives available anywhere in the marketplace. We have the full line of Maxoptix 5.25" legacy Magneto Optical (MO) Drives direct from the manufacturer. Internal and External options, all carrying a six-month return to depot parts and labor warranty. We also offer Maxoptix jukebox drive support, please contact us with your details.