MAGNETO OPTICAL DISKS (MO Disks) from MaxOptix and SONY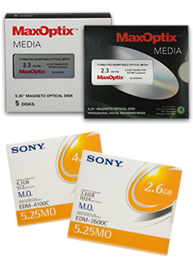 Magneto Optical Disks made by MaxOptix offer universal plug-and-play compatibility with most MO drives. With a shelf life of over 50 years, MaxOptix media can preserve your company's important records for years to come. Each MO disc has the ability to write and erase data more than 100,000 times.
Magneto Optical Media with WORM (write-once-read-many) technology provides non-erasable, non-alterable records. Our media gives you fast, reliable, and removable data protection at a competitive price.
Sony is a leading manufacturer of MO disks and is a trusted brand in the market. We have most sizes in stock and ready to ship. Our Sony discs are brand new and come with a lifetime warranty.
Items with "add to cart" button are in stock and available for purchase.
Inventory updated March 2018